12/18/09 ,
The CSN Way
,
CSN Columns
No feedback yet
Comment feed for this post
The CSN Way: A No. 1 vs. No. 3 Championship
By Chuck Burton, The CSN Way Columnist
For years, the FCS national championship game has featured teams that have not been ranked No. 1 going into the playoffs ending up playing for the Division I National Championship. But this year - in a twist of fate - we find two No. 1 teams vying for FCS championship this Friday at Finley Stadium in Chattanooga, Tennessee.
The FCS Coaches Poll ended the regular season with Montana at the No. 1 spot, with Villanova voted by coaches at No. 3. But the Gridiron Power Index, an index of ten FCS computer and human polls, had Villanova at No. 1 and Montana at No. 3. One thing's for sure this Friday: a No. 1 - and a No. 3 - will be national champions.
Which one will it be? Check out the full analysis of the FCS Championship game right here.
...
Previewing the National Championship Game
This year's game, in this 33nd year of crowning Division I national champions in football through the playoffs, features one former champion that is returning to the limelight in Chattanooga to try to claim the Division I title they were denied last year, and a first-time participant in the national championship discussion.
The University of Montana is no stranger to Chattanooga. In the past twenty years they've been to the national championship game six times.
In 1995, the Griz beat (then I-AA) Marshall 22-20 in the 18th Division I National Championship Game, and would fall to the Thundering Herd 49-29 in the rematch in the 18th the following year - Marshall's final years as a I-AA school. (Back then, the championship games were played in Huntington, West Virginia at Joan C. Collins Stadium, Marshall's home.)
More recently, Montana has been to Chattanooga four times this decade to play for national championships. The first was in 2000 - the 23rd national championship game - where the Griz fell to the second of head coach Paul Johnson's national championship teams at Georgia Southern 35-27. (Paul Johnson is currently the head coach at FBS Georgia Tech.)
The next was in 2001 in the 24th national championship game, where Montana beat Furman 13-6 (in Furman head coach Bobby Johnson's last year as Paladin head coach, before he went to Vanderbilt.)
Head coach Bobby Hauck, who succeeded former Griz head coach Joe Glenn, also made it to Chattanooga a year after he started coaching the Griz in 2003. Montana appeared in the 27th Division I National Championship game in 2004, losing to James Madison and head coach Mickey Matthews, 31-21, and also appeared in the 31st game last year, falling to head coach Mike London's Richmond squad, 24-10. (Mike London, just weeks ago, accepted the head coaching position at FBS Virginia).
The path for undefeated Montana's return to Chattanooga was a wild one. Their postseason dreams seemed dashed in the first round after falling behind 41-14 midway through the third quarter before enbarking on an incredible 46-7 second-half run to outlast South Dakota State 61-48. They then pulverized Stephen F. Austin 51-0 after forcing ten Lumberjack turnovers, before thrilling national audiences by stopping Appalachian State twice in the final seconds to preserve a 24-17 victory. The run brings them to the brink of Hauck's first-ever national championship and the first Griz national championship since 2001.
Villanova University's playoff history can't compare to Montana's. Head coach Andy Talley has gotten close to the championship game several times before, but was never able to get over the hump.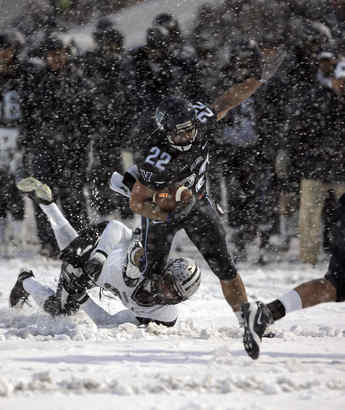 Coach Talley has pretty much seen it all at Villanova. After being hired in 1985 to develop a football program at the Main Line - which had just been disbanded as a I-A football program in 1981 - his first schedule consisted of all Division III schools: Iona, Pace, Catholic, Fordham, and the Navy JV team.
In four short years, Villanova became a I-AA squad and entered the playoffs for the first time. Their 52-36 drubbing at the hands of Georgia Southern would be the Wildcats' first taste of playoff football - but not, by any stretch, their last.
In the next ten years they'd return to the playoffs four more times. In 1997, they earned the No. 1 overall seed and finally won a first-round game for the first time with a 49-28 victory over Colgate. A heartbreaking 37-34 loss to Youngstown State (the eventual champion) would end the magical ride for players that included future NFLers Brian Finneran (a senior) and Brian Westbrook (a freshman).
Talley would come oh-so-close in 2002 as well, making it all the way to the semifinals behind the play of quarterback Brett Gordon. But a 39-28 defeat at the hands of McNeese State in Lake Charles, Louisiana ended another opportunity for the Wildcats to head to Chattanooga for the first time.
Looking at their playoff history, it just seems like Villanova had bad timing, bad luck, or both in terms of their playoff draws. Had the Wildcats been able to play McNeese State at home in 2002, they might have been able to knock off the Cowboys. They had home field advantage in 1997 and the players, but they barely lost to a I-AA powerhouse in Jim Tressel's Youngstown State team. (Tressel, of course, is now the head coach at Ohio State.) Even in last year's quarterfinals Talley's team had a tough matchup on the road - a tough 31-27 defeat at James Madison - that makes you wonder if they could have taken that game at home as well.
This year, the stars have aligned for the Wildcats to make it to Chattanooga. All they need is one more win to give Talley his elusive Division I National Championship trophy.
"I didn't know if I'd ever get one [Division I Championship]," Talley said before the game. "I didn't know it would take 25 years to get here. But at long last, we're fighting for one."
Tale of the Tape
One of the facts that makes this matchup interesting is not only that Montana and Villanova have never played one another: 12-1 Villanova, for the first time this year, is playing a team out of their region. Aside from their CAA schedule that ranges from New Hampshire to Virginia, their out of conference schedule consisted of Temple, Lehigh and Penn - all about an hour from the Main Line. Furthermore, their road to the championship consisted of one Patriot League team within a three hour drive (Holy Cross) and two CAA leaguemates playing the Wildcats for the second time this season (New Hampshire, William & Mary).
While Montana didn't play an FBS school like Villanova did, their Big Sky schedule and two of their three out-of-conference games (Cal Poly, UC Davis) meant the Griz faced a pretty broad geographic range of opponents. Add to that facing South Dakota State, Stephen F. Austin, and Appalachian State in the playoffs and Montana has faced a much wider variety of opponents. I'm not sure if that will come into play, but it might.
Here's a unit-by-unit breakdown of each team.
Offense:
Quarterback:
Montana head coach bobby Hauck said that quarterback play is the key to the championship game. If judged on pure passing yardage, Montana's Andrew Selle (2,889 yards passing, 364 yards rushing, 26 TDs) would seem to have it all over Villanova's Chris Whitney (1,794 yards passing, 23 TDs). But passing is only half of Whitney's story in the Villanova offense, where he doubles up as a potent rushing attack (886 yards) and even, on occasion, as a pass receiving threat in Talley's Wildcat formation offense. While Selle is the better pure dropback passer, Whitney is a tough running back in a quarterback's body.
Both QBs don't turn over the ball much. In a game that may come down to mistakes, both signalcallers don't make many of them. There's no advantage to either team here. Advantage: Even.
Running Backs:
Montana has one of the best running backs in FCS to take the pressure off. Chase Reynolds (1,797 all-purpose yards, 24 TDs) is a small back, but can do it all with a great amount of toughness. He picks holes well and will not shy away from contact.
Villanova has two small running backs - Aaron Ball and Angelo Babbaro - that are part of the equation running the ball. Both are speedy, with Ball getting more of the tough "contact yards" than Babbaro. Combined, they have rushed for 1,137 yards and 12 TDs.
While Ball and Babbaro are solid, speedy backs, they aren't the featured back that Reynolds can be during crunch time. Advantage: Griz.
Receiving:
It's in the receiving corps where you start to see a difference between the two teams - finally.
Selle's favorite target is clearly wideout Marc Mariani (1,301 yards, 12 touchdowns). He's an athletic leaper who more often than not comes down with the ball when he goes after it. He almost singlehandedly led the Griz on their comeback against South Dakota State, and he's a disruptive force catching the ball.
After Mariani, Montana spreads the ball around to targets like wideout Tyler Palmer (465 yards, 4 TDs), Jabari Sambrano (433 yards. 3 TDs), and tight end Stephen Pfhaler (363 yards, 4 TDs). The Griz have an awful lot of options, whether looking at possession receiving or deep burns of the secondary.
Villanova, though, could have the most disruptive force of all when it comes to receiving the ball: junior "slash" back Matt Szczur. Whether rushing the ball from the direct snap in the Wildcat formation (654 yards, 8 TDs), passing the ball (4/4 competions), or receiving the ball (542 yards, 4 TDs), he's a big-play machine who always needs to be accounted for on this Wildcat team. Last week against William & Mary he exploded for a 62 yard rushing touchdown - and converted a fake punt - that played a large part towards bring Villanova to Chattanooga for the first time.
Add to this the big-play capability of wideout Brandyn Harvey (694 yards, 5 TDs), who seems to make big plays precisely when they're needed (the game-winning touchdowns against Temple and Richmond, a big completion that set up the game-winning touchdown against William & Mary), and you have to say the Wildcats have the edge. Advantage: Wildcats.
"O" Line:
With two offenses that run the ball so effectively, it's two great offensive lines that make these offenses go. Montana's "O" line is anchored by 6′7 315 pound Levi Horn, while Villanova's go-to lineman is 6′4 320 pound Ben Ijalana. Both lines are real strong; and Villanova's rushing offense (No. 4 in the nation) and Montana's passing offense (No. 14 in the nation) are possible only because of their efforts. Call this one a draw. Advantage: Even.
Defense:
Front Seven: Villanova brings the 3-3-5 stack defense, so theoretically they bring more of a "front six" than a "front seven". But those six could be considered one of the best in the nation. Defensive end Tim Kukucka (9 1/2 sacks), nose guard Phil Matusz (29 tackles), linebacker Osayi Osunde (80 tackles) and linebacker Terrence Thomas (108 tackles) are all devastating forces in this speedy, blitzing, disruptive front.
But Montana has some playmakers in their front seven, too: defensive lineman Jace Palmer (4 1/2 sacks), defensive lineman Severin Campbell (4 1/2 sacks), linebacker Shawn Lebsock (98 tackles) and the "coaches' son", linebacker Brnadon Fisher (71 tackles, and son of NFL head football coach Jeff Fisher) have rose to the occasion, especially in the playoffs.
While Montana definitely has some football players up front, it's hard to ignore the depth and power of Villanova's front six. Got to give the edge to Villanova here. Advantage: Wildcats.
Secondary:
In the secondary, Montana is star-studded. Safeties Shann Schillinger (4 interceptions), and Erik Stoll (87 tackles, 2 INTs) are one of the best safety combos in FCS, and they are also fierce hitters as well as good cover guys. Cover corner Trumaine Johnson (5 INTs) is difficult to beat as well.
Villanova boasts James Pitts (4 interceptions), and safeties Ross Ventrone (68 tackles, 2 INTs) and John Dempsey (70 tackles, 2 INTs) in their five-man secondary. While they're also very hard hitters (and mean blitzers from the inside and outside), when it comes to pure pass coverage, Montana has the edge. Advantage: Griz.
Special Teams:
Kicking:
Montana's Sean Wren and Villanova's Dominic Scarnecchia are both considered valuable weapons in the battle of field position. Wren averages more than 41 yards per kick, and Scarnecchia placed 3 punts last weekend inside the 5 yard line for the Wildcats.
Place-kicking also seems very even. Villanova's Nick Yako has been perfect in PAT's this year, and has connected on 11/15 for field goals, while Montana's Brody McKnight has hit 61/64 PATs and 15 /25 on field goals. Advantage: Even.
Return Game:
Both have a go-to return man - Villanova has dangerous wideout Matt Szczur (773 kickoff return yards, 1 TD) and Montana has speedy wideout Marc Mariani (706 yards, 2 touchdowns). They're both superstars, and both are a threat to score touchdowns on any return. I won't even pretend that there is a difference between them. Advantage: Even.
Coaching:
Just call it even. Montana's Bobby Hauck's team is incredibly sound on the fundamentals, and his team is very disciplined, while Villanova head coach Andy Talley's team is the exact same way. Don't even bother trying to find who's the better coach. Advantage: Even.
Fearless Prediction:
It's hard to get away from calling this a battle of two different styles of football. Montana's balanced, pro-style offensive attack is difficult to stop, while their base defense just hit incredibly hard and make good things happen. Villanova's Wildcat offense may be a bit newfangled, but it has worked for them all year against the tough, physical CAA league schedule, and their 3-3-5 stack defense has given everyone fits. You say all the matchups that came up "even" Who wins?
Key for Montana will be to take control of this game early. Villanova is likely to suffer more if this is a track meet - a couple early big touchdown runs by Reynolds, or some big plays by Mariani, could make Villanova play catch-up.
Key for Villanova will be to control the ball on offense and keep making those big plays. The Wildcats have done their best all year by controlling the tempo, forcing the opponent to play catch-up and then let the aggressive defense make plays. If the game is a slow, plodding style, that will favor the Wildcats in a big way.
The matchup I want to see the most is in the trenches - how the Montana "O" line and Villanova front six match up, and the Villanova "O" line and Montana's defensive front stack up. With rain likely in Chattanooga Friday night, these battles are even more important.
In the end, I think it is more likely that the Griz will be dragged into a dogfight than Montana making this into a shootout. Call it the weather, call it a physical CAA schedule - or even call it the stars aligning for Talley - but I see Villanova taking a physical, close game.
Villanova 28, Montana 17